Transport to the Academy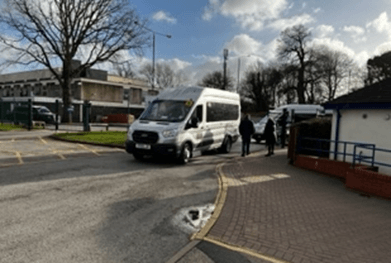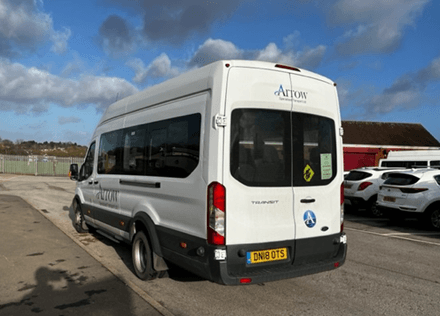 If you accept an offer of a place from the ICDS, and the offer is the first choice of the ICDS for your child or young person then it is likely that transport will be provided by the local authority (the LA)
Our children and young people are picked up in the morning in small buses that usually transport up to 12 individuals. All of the buses have one driver and an escort. These drivers and escorts are employed by the local authority. Sometimes there are fewer children on transport and in some rare cases some children travel as individuals.
You are able to transport your own child if you wish but we recommend using the provided transport as it gives the children a good opportunity to mix and form friendship groups. Parents and carers are not able to travel with the children but familiarising our children with the process can be gradual and the drivers and escorts will work with families to ensure children feel safe and supported.
Sometimes, individuals might struggle to cope with the transport and in these cases you will need to contact the LA who can help.
Some of our children bring portable devices, ear defenders or items to help cope with the journey. This is fine as long as parents, carers are in agreement with the driver and escort. All electrical devices and items from home must be handed in on arrival at school and will be returned at the end of the day.
When our young people are ready, they will have travel training lessons as part of their curriculum. This often means that a small number of our young people become independent travellers. This is a great achievement and very empowering.
A note about soft toys/toys from home:
We ask children NOT to bring in soft toys and items from home as they can become lost or mixed with school resources. We have resources in school and can work with families where children have particular needs.
Cancelling transport:
If you need to cancel transport or have any questions you will need to contact the provider directly. The contact details are as follows:
Nottinghamshire County Council: 0115 9773493
Nottingham City Council: 0115 8765623
Derbyshire County Council: 01629536727 or 01629 536728
Some parents and carers may wish to go directly to the transport company.
Information provided by the transport providers:
In the event of a young person not being met by a parent/carer at the end of the day, the following procedure is followed:
Driver/Escort in the first instance will try and contact the parent/carer if they have their contact details. If they manage to contact the parent/carer and they are nearly at the pickup location, then the vehicle will wait for the parent/carer arrival.
If the Driver/Escort cannot contact the parent/carer or the parent/carer has indicated that they are not due to be at the pick-up point in the next 10 minutes, then they should contact the transport providers base and inform them of the non-collection and the current situation
The transport provider will inform Transport and Travel Services (TTS) of the situation.
TTS will endeavour to contact the parent/carer to ascertain why they are not at the pick-up point and when their anticipated arrival is
TTS will advise the operator of what action to take which will normally be to remain at the pick-up point until parent/carer arrives
In exceptional circumstances when parent/carer cannot be contacted TTS may

Contact school to discuss a way forward
Contact Social Care if the family have a named Social Worker
Continue the transport run and return other young people on transport to their pick-up points and then return to the non-collection address and wait for the parent/carer to return

As a last resort TTS will contact the Social Care Emergency Duty Team for them to progress
The NCC transport policy is included in our policy documents. This policy belongs to NCC.
On some very rare occasions we might arrange for a taxi to take a child home (usually an older student who is likely to be travel trained)
In these circumstances we will talk with the parents/carers to ensure that we all know the arrangements and that we are confident that everyone is safe. We would only ever use a company known to the Academy and would ensure that the appropriate checks have been made.